Raising A Song Of Praise To "Dear Old Muc"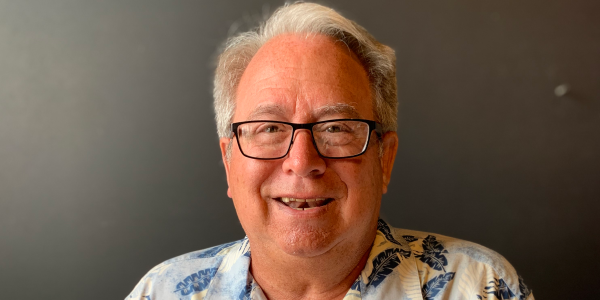 Loren Veigel '75 was born to make music. After following his passion to Mount Union and enjoying a long career sharing his gift with high school students, he is grateful for the many experiences his education has afforded him. Today, he's building a beautiful harmony between his two loves – music and Mount Union – by creating a lasting legacy to support future students.
Born and raised in Massillon, Ohio, Loren fell in love with music as a young child. He remembered, "A woman advertising piano lessons visited our school in third grade. I rushed home and shared the flyer with my mother who was shocked! Unbeknownst to me, my grandmother had arranged to have a piano delivered for us that very same day."
In addition to piano, Loren added the organ to his repertoire in high school. During his junior year, Loren's organ teacher introduced him to Arthur "Art" Lindstrom at Mount Union. "I spent a day on campus," he recalled, "and the rest is history!"
Although Loren's dad was a steel worker and family resources were limited, Loren was settled on Mount Union as his first and only choice. "I knew Mount was the school for me, and they were able – as they do – to find the scholarships I needed to make it possible."
At Mount, Loren also participated in band and choir. He reminisced about several inspirational figures, including Dr. Cecil "Pop" Stewart, Dr. Carl Kandel, Art and Ruth Lindstrom, and Dr. Bruce Browne, who made his time on campus so impactful. Perhaps his favorite experience, however, was the opportunity to travel with the choir. "Our senior year, we toured through Europe, and it was like an infection!" he exclaimed. "I knew I would do whatever it took to go back someday."
Upon graduation, Loren began his career as a music educator. He directed choirs at several high schools across Ohio, completed his master's degree, and eventually retired after 15 years at Massillon Washington High School. He introduced travel to those choirs as well and has been on nearly 30 European tours over the years. He shared, "I believe so much in the bonding that happens between students on those trips. There's nothing like it."
Once retired from teaching, Loren took up a "second career" coordinating choir tours for schools all over the country. To this day, he arranges Mount Union's International Choir Tour. "It's an honor because there are a lot of people who would be glad to help, but it is a joy to have been around since the very beginning," he said.
After many wonderful years of teaching and traveling, it all comes back to Mount Union. "For so many of us," he explained, "we wouldn't have had the lives we've had without Mount – it's very emotional for me how special of a place Mount really is."
Loren's love for his alma mater also motivates his philanthropy. "I am inspired to give to Mount Union because Mount Union inspired me," he explained. In addition to his annual support, Loren has included the University in his estate plans. He shared, "Our formation as people came from our families. But Mount Union is family, too. I encourage all of my fellow alumni to find at least a corner for Mount. After all, who would we be without this incredible place we call home?"
Loren's love for music and Mount Union truly has come full circle. As he raises a song of praise to "dear old MUC" with this extraordinary gift, his legacy of support will impact future Raiders for generations to come.