A Love Story and Legacy: Dave '62 and Karen (Anderson '69) Jones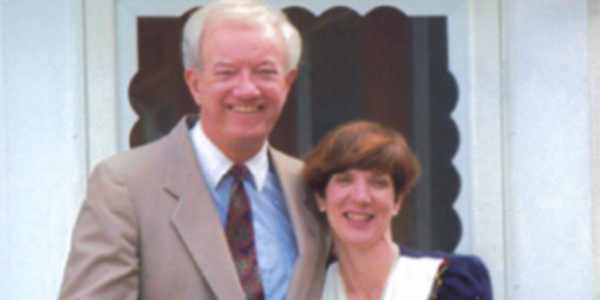 Standing in his fraternity brother's doorway at the Alpha Tau Omega (ATO) house one day, Dave Jones '62 happened to look out the window and noticed the most beautiful woman he had ever seen. He made a mental note to look her up.
The next day, Dave and fraternity brother Bob Berrodin '92 walked into a local diner, and there the woman was again.
"I felt it was a sign," Dave said. "I didn't know who she was, but I wanted to."
Dave went back to the ATO house and started looking through the directory. He finally found her photo and learned her name was Karen Anderson '69, but he did not know where she was staying on campus.
"I just started calling the women's dorms and asking for Karen Anderson until I got the right one," Dave laughed.
Dave and Karen went to a Mount Union basketball game for their first date. At the time, Karen had a cold, but Dave said he really wanted to give her a kiss goodnight. The next day, he woke up with the cold. Karen and Dave would laugh about this for years to come. By the third date, Dave said he knew he had to have Karen in his life for the long haul.
Karen and Dave were married his senior year and had their first son Brian just ten months later. Dave's career in pharmaceutical sales moved their family all over the country, but he said Karen was "a trooper" and helped make each new house their home. In every location, the Joneses found their family away from their family. Throughout their many moves, Karen and Dave welcomed three more sons into the world. First Scott, then Derreck, and finally their youngest son, Craig. Between their four sons, the Joneses have nine grandchildren ages four to 26, of whom they are so proud.
Sadly, Karen was diagnosed with dementia in 2001. Dave kept her at their home in North Canton for many years, but after a while, it became too difficult to look after her. Dave moved Karen to a memory care unit about two years ago.
This past spring, COVID-19 hit the facility, and Karen contracted the virus. Dave begged the administration to let him sign a waiver to go in and hold Karen one last time, but they would not allow it. Dave did not want Karen to be alone in her last moments. He felt heaven granted him this wish. He connected with the facility's head nurse who spoke to Dave on the phone and held Karen's hand as she took her last breaths.
"I received 104 sympathy cards after she passed. They were comforting me, but they were honoring Karen," Dave said. "She was a bright light in so many people's lives. I always told her she had a helper gene. She put everyone else's needs before her own. She was an incredible person."
True to her selfless nature, Karen made Mount Union the beneficiary of a life insurance policy to support current and future Raiders upon her passing. The Karen Jones Endowed Scholarship will benefit students for years to come. Dave has also made provisions in his will to add to the scholarship.
Though Dave notes that he appreciated his Mount Union experience, his professors and friends, loves the Raider community, and always enjoys coming back to football games, he said Karen is who inspires him to stay connected and give back.
"Mount Union is where I found her," Dave said. "We maintained coming back and forth for sports and events, but Karen was the draw. No doubt about it."