A Transformational Experience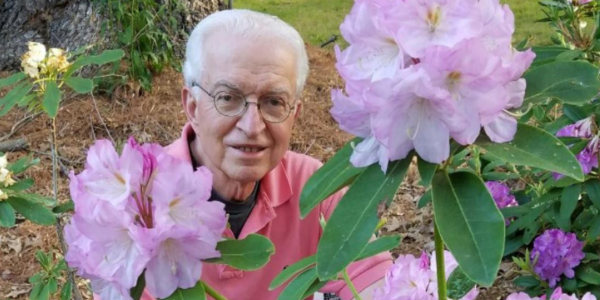 Education shaped the life of Tom Flanigan '66 from the beginning, and it will be part of his legacy. His grandfather was a schoolteacher in a one room schoolhouse in southwestern Pennsylvania aptly named the "Flanigan School". Later, his father, Robert Flanigan '33 taught in the same one room schoolhouse. His mother also began her career teaching eight grades in another one room schoolhouse located in southwestern Pennsylvania.
"When I was applying to colleges in 1962," recalls Tom, "I remember visiting the campus with my father and he pointed out that he had lived in Miller Hall. I took note that there was respect for maintaining the architecture on campus. I think the presence of inspiring architecture on campus provides students with a sense of tradition and a respect for the past, an important element in one's development. Obviously, I was drawn to Mount Union because of my father but it was ultimately the people that I encountered on my first visits and the preservation of older buildings that greatly influenced my decision to choose Mount Union."
Following in his father's footsteps majoring in Chemistry, Tom set out with Pharmacy as his career goal. He had the same professors his father had, Dr. Papenhagen and Dr. Morgan. "I enjoyed my chemistry classes very much, but I soon developed a strong distaste for those lengthy afternoon labs and decided this was not for me. I was fortunate to end up in the office of a guidance counselor on campus and was given a battery of tests to identify my proficiencies and passions," Tom explained.
Tom changed his major to Business Administration and Economics. He remembers fondly his professors, Gilbert Stonesifer and Ray Diehl '50, but wishes he could recall the name of the guidance counselor that pointed him to his new major and his ultimate destiny.
"Mount Union recognized my strengths and what could make me happy, and they were right. My pursuit of happiness had a lot to do with my success," Tom said. "I was, and still consider myself, a very lucky and ordinary fella, but have always been motivated to become the best possible version of myself."
After graduation, Tom started work as a Management Trainee at Pittsburgh National Bank (now PNC Corp) in Pittsburgh, PA, working in a number of departments in the Retail Banking Division. He was a skiing enthusiast and fell in love with New England after several skiing holidays. In December of 1971, he spent ten days in Hartford, CT seeking employment.
"It was different back then, but I sure was lucky," said Tom. He accepted a position with The Travelers Insurance Company, where he worked in the same division for nearly thirty years even though that division later became a part of Unitedhealth Group through mergers and acquisitions.
Tom has been a consistent donor and supporter of the Mount Union Fund and the University for many years. In a letter to then President Dr. Jack Ewing in 2013, which Dr. Ewing later quoted in the Mount Union Magazine, Tom wrote: "You are to be commended for your diligence and commitment to making Mount Union the institution that it is, the college of champions. Champions not only on the football field, but champions of social responsibility, champions of democratic thought, and champions of love and caring for others. In a world that is filled with so much doubt, you provide so much hope and inspiration."
In 2017, he established his own endowed scholarship to recognize his mother and father, and to reward an exceptional student studying toward a career in science or medicine. He was inspired by an article he read in the Mount Union Magazine highlighting the achievements of then student Thomas Mason '18. "I remember reading about this young man's intense focus as an athlete and student, working to become the best possible version of himself. That is a theme that I understand, respect and try to live myself."
Most recently, Tom made a generous estate provision becoming one of the newest members of Mount Union's Diamond Circle. Tom's thoughtful gift ensures the impact of his legacy transforming lives for years yet to come. When asked about his motivation, Tom put it perfectly:
"The goal of human life is happiness, and real happiness comes from the continuous effort to become the best possible version of yourself. Mount Union was the point of origin in my life that shaped the arc of possibility for everything that came after, and now I can adequately say thank you."
In his retirement, the intellectual curiosity he developed as a Purple Raider has taken him on many holidays, to countries of Europe and travels within the United States. He has volunteered and served on the boards of several nonprofits in the Greater Hartford area, including the New Britain Museum of American Art, and is the President of the Rhododendron Society of Connecticut. He loves spending the summer and autumn months in the Berkshires of western Massachusetts, where he enjoys the wealth of endless cultural happenings in and around the Lenox area, and Tanglewood, the summer home of the Boston Symphony Orchestra.