Young Alumni Couple Envisions Their Legacy at Mount Union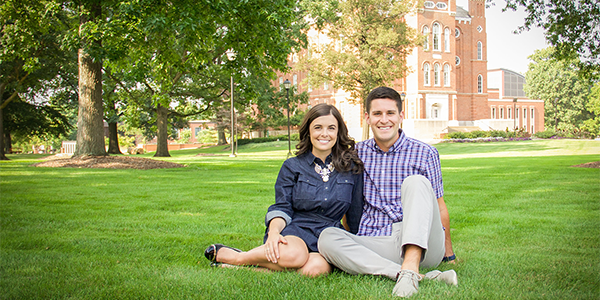 Changemakers.
There is no better word to describe Dani Rizzo '10 and Adam Hoyt '11. Since their time at Mount Union and in both their personal and professional lives today, Dani and Adam are committed to giving back. It seems only natural that their passion for philanthropy has inspired their future legacy with a generous estate gift to support Mount Union students.
Their story began at Mount Union. Dani was a Preview guide when she met Adam during his freshman orientation. In addition to welcoming new students, Dani also was involved in cheerleading, WRMU, and Alpha Chi Omega. Adam played soccer, was as a community educator in the residence halls, and was actively engaged in the Sport Business program.
Of all of their involvements, Dani described her most meaningful experience during college as serving at the Alliance Domestic Violence Shelter each year with her sorority sisters. "Being a changemaker, being a force for good, and making an impact on our community – that is something Adam and I both learned at Mount Union," she shared.
Adam and Dani moved to Washington D.C. after graduating in 2010 and have made their home there. Adam was eager to launch his career in the sports industry and currently works for the Washington Nationals in ticket sales and service. After completing graduate school at American University, Dani fell in love with the non-profit sector and now runs the digital team for their local Humane Society. "We both have benefitted from the launching point that Mount Union provided for us," Adam explained, "and we're fortunate that we were able to land our dream jobs within our fields of study."
Giving back to Mount Union always has been part of the fabric of Dani and Adam's life together. They shared, "Early on, much of our giving was in the form of our time, as we were establishing ourselves and our careers." Over the years, Adam has remained actively involved with M Club, while Dani serves as coordinator for Mount Union's D.C. Regional Club.
But 2020 has been a year unlike any other, and in the midst of the chaos, they started to consider their plans for the future. "With all of the craziness around us, we wanted to make sure we had a plan and began to consider what we wanted our legacy to be." Although Adam and Dani have various philanthropic interests, Mount Union is their common thread. "Mount Union is to what we owe so much of our lives," Adam explained, "so giving financially is something we're both inspired to do – and to do more every year."
With this in mind, Dani and Adam decided to include Mount Union in their will. "We're most passionate about decreasing barriers to higher education," they shared, "and closing the gaps in opportunity and inequality for diverse, underrepresented groups is important to us." Their generous estate provision will fund the Adam M. Hoyt and Brooke Danielle Rizzo Endowed Scholarship and will contribute to the University's efforts towards inclusive excellence.
For Dani and Adam, Mount Union is where it all began – and now, full circle, their legacy at Mount Union will live on, impacting generations to come.